Patrick Cozzi Recognized for Contributions to glTF
Cesium CEO Patrick Cozzi has been awarded the Lifetime Achievement Award at The Polys - WebXR Awards for his foundational work on the glTF specification. 
The Polys-WebXR Awards are awarded annually to honor achievements in immersive web development.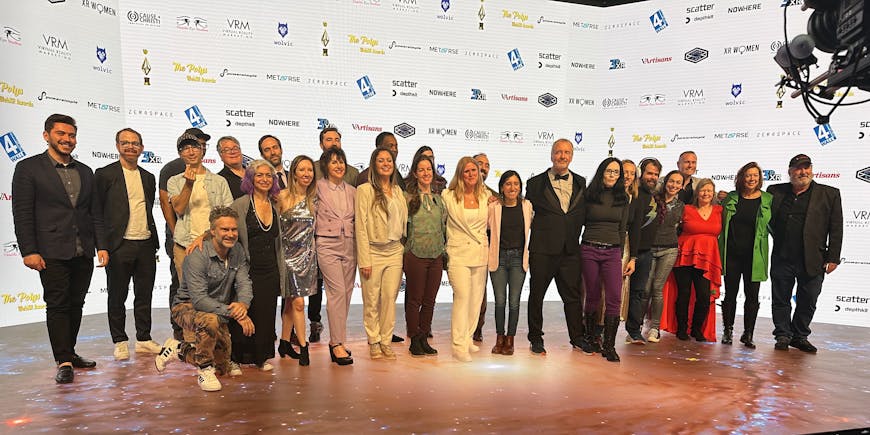 This year's Lifetime Achievement Award was presented following recorded remarks from Neil Trevett, President of The Khronos Group, Chair of the Metaverse Standards Forum, and VP at NVIDIA; Nadine Alameh, CEO of the Open Geospatial Consortium (OGC); Metaverse author and entrepreneur Tony Parisi; XR Guild Board Member Damon Hernandez; and last year's recipient, Google's Brandon Jones.
Messages were as follows:
Neil Trevett: "Patrick is so deserving of this recognition, so this just makes me so happy. We worked together first at the glTF working group when it was a small band of brothers with a shared vision and it's no exaggeration to say that glTF would not exist today without the participation and the leadership of Patrick. Not only did he set the technical foundation, but he Chaired the group at a critical phase and he was instrumental in fostering the ecosystem for glTF. He has an irresistible blend of technical expertise and a deep commitment to open standards and a contagious enthusiasm for cooperation for the greater good. And that runs through everything that Patrick does, whether he's being a tech CEO with Cesium, a standards advocate at Khronos and the OGC and now The Metaverse Standards Forum, and as a teacher, both at Penn, his books, and now, the podcast about the metaverse. Thank you, Patrick, for everything you have done for the 3D graphics community and the standards community. And I know the best is yet to come."
Brandon Jones: "There's a lot of discussion these days about what the metaverse is or isn't, will or won't be but it's undeniable that any metaverse worth having will be built on a foundation of open ubiquitous  standards. Standards for 3D models are especially important as they make up the majority of what we see in an immersive world. The 'graphics library transmission format' or  'glTF' is an open standard for 3D models targeted at web technologies like WebGL and WebGPU and maintained by The Khronos Group. Many WebXR experiences use the glTF format as the basis for their visuals, so it's no exaggeration to say that WebXR would not be as compelling as it is today without glTF, and glTF would not be what it is today without Patrick Cozzi. A specification like glTF is always the work of many collaborators, but there are often those who have an outsized effort on the standard as a whole. Having been privileged to witness this collaboration from the beginning, I've seen Patrick's work as spec editor play a critical role in bringing glTF to the world. That's why I'm honored to be here today to present him with The Poly for Lifetime Achievement. Patrick has been a champion of rich, immersive content on the web from the very beginning. As CEO of Cesium, Patrick has used open and interoperable standards to build an engine for streaming 3D geospatial data as as the co-host for the Building the Open Metaverse Podcast with Marc Petit, he has helped to reach out to an immersive web community about openness and interoperability in the metaverse at a time when we need those conversations most. As an active participant in the Metaverse Standards Forum, Patrick is working on creating a solid foundation for the future of immersive content. It is now my privilege to pass the torch as a former Lifetime Achievement Honoree as the WebXR Awards like Ricardo Cabello before me, to Mr. Patrick Cozzi."
Nadine Alameh: "We at the Open Geospatial Consortium love Patrick Cozzi. We love what you've done with glTF, with 3D Tiles. I love your commitment to standards, to interoperability, to collaboration. You are one of a kind and I'm so happy for you. Congratulations Patrick!"
Damon Hernandez: "Patrick, big thank you for all the work you have done as co-creator of glTF and really helping move forward the Web 3D industry as a whole."
Tony Parisi: "I'd like to congratulate my friend Patrick Cozzi on receiving this honor. It's not everyday that one can create a standard for 3D graphics on the internet, an international one, one that millions of people use. It takes patience, it takes drive. It takes passion. These are all qualities that I think about when I think of Patrick Cozzi. Patrick has a calm demeanor that belies a fiery passion for creating technology that everyone can use and creating products that everyone can use. And I can't wait to see what Patrick is going to be up to in building the open metaverse. glTF was just the start. Congratulations, Patrick."
Patrick accepted the award live in Brooklyn, NY on Sunday, March 5. In a statement on LinkedIn following the awards, Patrick wrote:
"It was a joy to attend The Polys - WebXR Awards last night and receive the Lifetime Achievement Award for work on glTF and its use to enable an open and interoperable 3D ecosystem.
It brought back fond memories of the early days of glTF over a decade ago, a grassroots effort including Rémi Arnaud, Brandon Jones, Uli Klumpp, Tony Parisi, Fabrice Robinet (the driving force!), and Neil Trevett. It was the early days of WebGL and there was a need for an open, efficient, and robust format for this new world. Facilitated by The Khronos Group, we worked in the open on GitHub, went door to door at SIGGRAPH, celebrated every small success, and slowly built momentum to a carefully-defined specification _and_ a software ecosystem with a ton of open source.
A big break came when Microsoft got involved and PBR materials were added to glTF, helping drive adoption for PBR on the web and for glTF beyond WebGL. Big thanks to Gary Hsu, Saurabh Bhatia, and Jean Paoli.
Another wave of adoption and ecosystem advancement soon came with 3D commerce fueling new workflows, metadata, and lots more PBR.
As computing becomes more 3D centric and users and businesses see the value in open ecosystems, glTF is more important than ever. I see a bright future as glTF continues to advance PBR; looks towards extensions for physics and behaviors; and the work in the Metaverse Standards Forum helps facilitate alignment opportunities among USD and glTF, as 3D becomes as common of a media type as images.
The 3D Formats Working Group is now literally 10x the size of the early days with so many folks making major contributions to glTF, including but not at all limited to Leonard Daly, Dan Frith, Ben Houston, Alexey Knyazev, Ed Mackey, Alexey Medvedev, Don McCurdy, Norbert Nopper, Aditi Sharma, and Alexander Wood.
As for the The Poly Awards, I did not realize that they had introduction videos from Nadine Alameh, Brandon Jones, Tony Parisi, and Neil Trevett before I went on stage. That was much appreciated…and also embarrassing. Thanks for the heartfelt comments, and, wow, I was honored that Brandon even wore a tie.
The award itself is a glTF model in a hologram from Looking Glass presented by Shawn Frayne. We will display it at the new Cesium Headquarters.
Congrats to Karen Alexander, Ben Erwin, Sophia Moshasha, Julie Smithson, and the team on an excellent event and thanks for bringing the community together and recognizing glTF."