SIGGRAPH 2023 Trip Report
Cesium was proud to continue our long tradition of participating in SIGGRAPH, the premier conference in computer graphics, as it celebrated 50 years. After half a century of technological advancement, we love SIGGRAPH because it is community-driven and people-focused.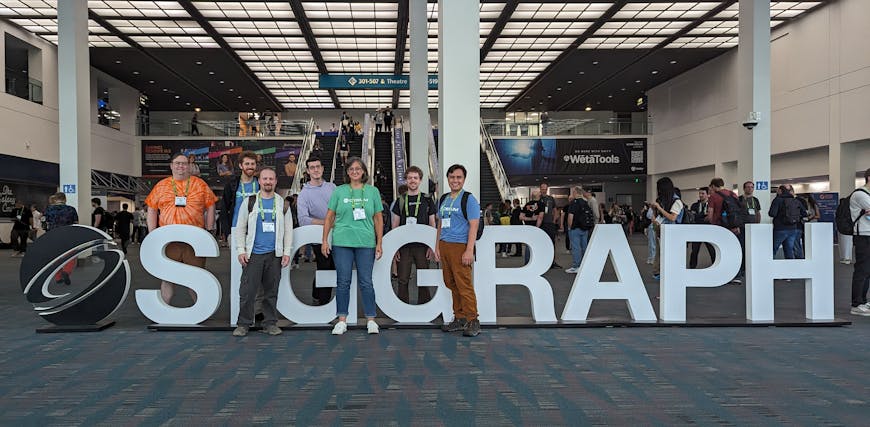 OpenUSD and its interoperability with glTF, digital twins at scale, and generative AI were major topics at SIGGRAPH 2023.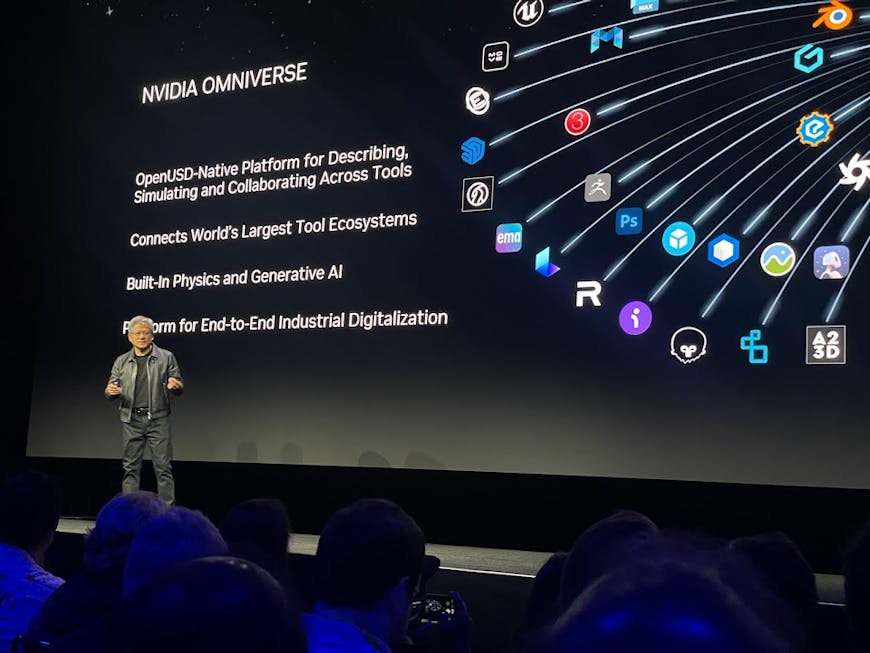 With the long list of sessions, the recent formation of the Alliance for OpenUSD, of which Cesium is a member, and NVIDIA's OpenUSD Day, we knew OpenUSD would be a huge topic. USD is a way to achieve cross-tool and cross-industry interoperability. This makes it a meta-topic that spans AI, game design, architecture/engineering/construction (AEC), and more. Many of us have spent significant parts of our careers dealing with data exchange between tools. The prospect of putting that enormous pool of time to more impactful use seemed to be fueling much of the interest.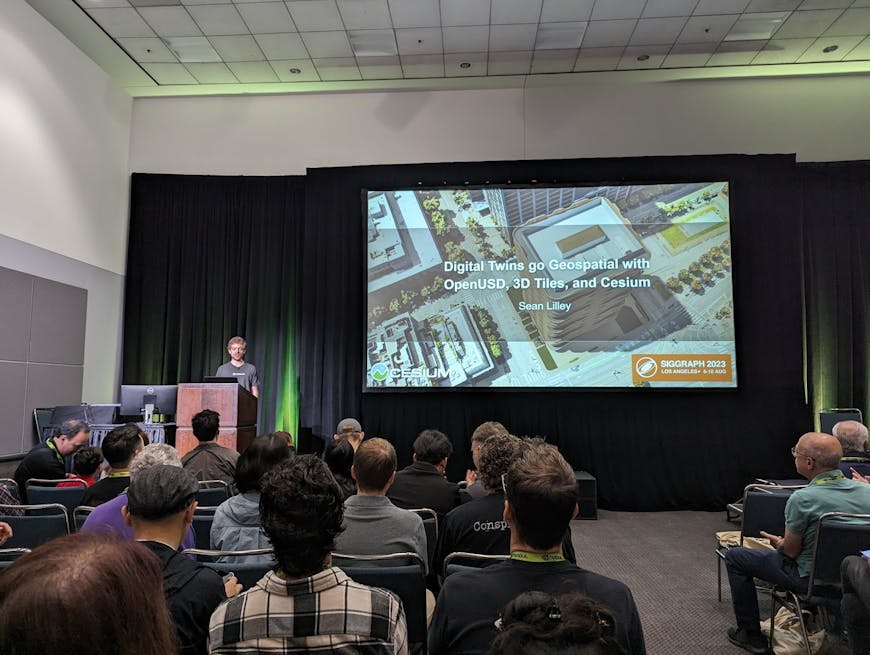 As part of NVIDIA OpenUSD Day, Cesium's Sean Lilley gave a presentation focused on how to bring geospatial data via 3D Tiles for global-scale digital twins in NVIDIA Omniverse. The interest in the talk exceeded capacity with a considerable line of people hoping to get in. The video and slides of "Digital Twins Go Geospatial with OpenUSD, 3D Tiles, and Cesium" are available.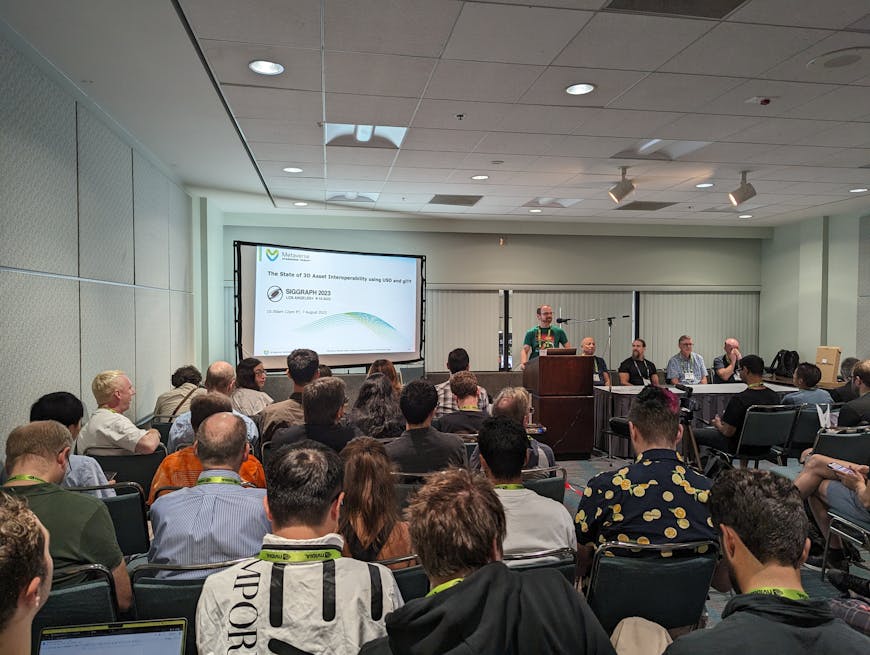 Cesium CEO Patrick Cozzi moderated the Birds of a Feather panel "The State of 3D Asset Interoperability using USD and glTF" organized by the Metaverse Standards Forum. 
The panelists offered insight on how to use both USD and glTF to deliver rich and efficient experiences in an OpenUSD ecosystem that takes advantage of glTF's strengths. 
Guido Quaroni, Senior Director of Engineering at Adobe 3D&I, shared advice on how USD and glTF can best interoperate. Henrik Edström, Distinguished Architect, Graphics, Autodesk, detailed paths to material interoperability across USD and glTF. Eric Haines, Distinguished Engineer, NVIDIA, offered his perspective and insight as an advanced user. Alexey Medvedev, AR Tech Lead, Meta, described collaboration paths for glTF and USD. The session's popularity was a testament to interest in this topic.
Cesium's Adam Morris also presented on glTF in the Birds of a Feather session "Geometry, Textures, and Workflow - Optimizing glTF." It covered how to optimize glTF both internally and through 3D Tiles. Again, the room was full and the crowd was engaged, showing strong interest in leveraging glTF. Download the slides if you're interested in learning more.
Cesium's Lisa Bos presented at the Birds of a Feather session "Cartographic Visualization (CARTO)," a recurring Cesium tradition now in its eleventh year. Lisa was joined by Rex Hansen, Esri; Don Brutzman, Naval Postgraduate School; Nicholas Polys, Virginia Tech; and Mike McCann, Monterey Bay Aquarium Research Institute. Slides from this session are available.
Last but not least, Cesium co-sponsored the well-attended Khronos Group & Metaverse Standards Forum Reception. It was an evening of great food, drinks, and the exchange of ideas across hundreds of people. We would provide a photograph of the many Cesium T-shirts up for grabs, but they were gone too fast.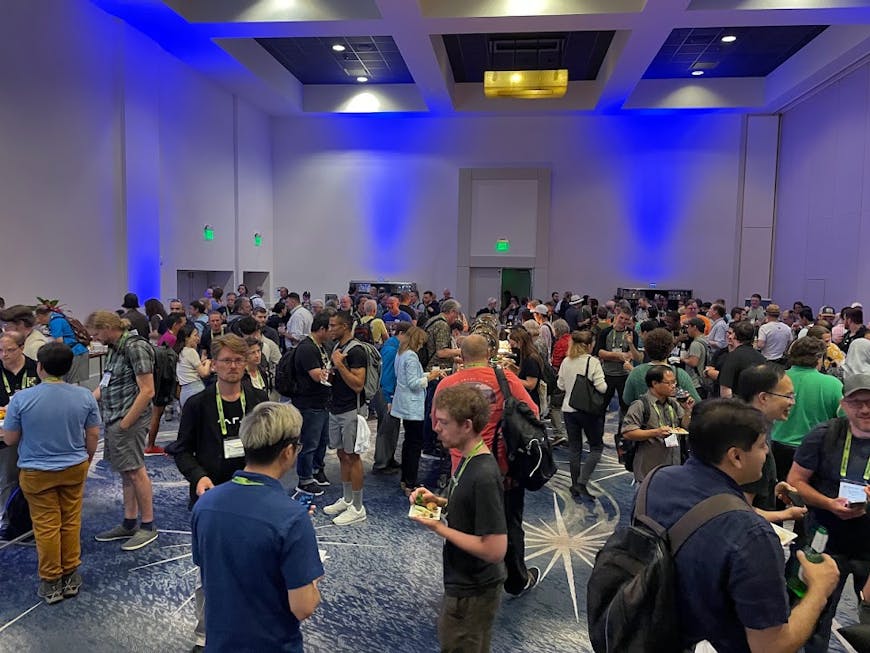 SIGGRAPH 2023 was an exceptionally full week of technological advances and creative achievement that was both inspiring as well as informative as we push for advances in geospatial visualization and digital twins. For those looking to learn a bit more, presentations from Cesium can be found at https://cesium.com/learn/presentations.