Yonathan Anatolii Ast Joins Cesium as COO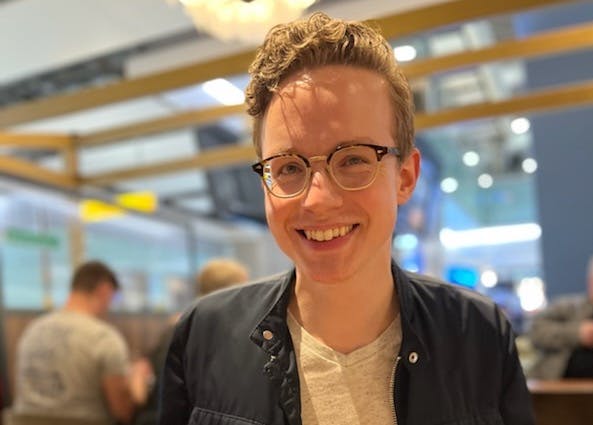 I'm very happy to welcome Yonathan Anatolii Ast as Cesium's Chief Operating Officer. 
Anatolii and I have collaborated for quite some time and he has an authentic passion for our vision for 3D geospatial and the community that is building it along with us.  Anatolii brings a breadth of business development and operational experience, including international business with Japan, digital transformation for construction, venture investing, and legal.  He understands and admires Cesium's roots and will exemplify them as he helps us scale the business to realize the potential of 3D geospatial in the metaverse.
Anatolii and I recently geeked out about his thoughts on Cesium and the metaverse. Here's the highlights.
Patrick: It is fascinating to me how we both landed in the 3D geospatial metaverse through two different paths, you from the visual side and me from the engineering side. Tell us your journey and how you came to know Cesium.
Anatolii: I first learned about Cesium and Patrick a few years ago while I was at Komatsu, which had set out on a path to digitally transform the earthworks industry. They had a vision to develop an application to create digital twins of earthwork sites, forever changing the way that construction projects would be managed and seen. In our search for the best partners to assist us in realizing this vision, we were lucky enough to be introduced to Patrick and Cesium. During our initial meeting we realized that Cesium had essentially handed us exactly the virtual world we had been looking for—quite literally a perfect one-to-one digital twin of the globe, on which we would be able to easily import drone-captured job site data and empower earthworks professionals like never before.
As a lifelong gamer, I have always been inspired by 3D engines and the artistic and technical skill employed in the development of games—from the transportive magic of incredible virtual worlds, to the unforgettable stories and experiences I could enjoy within them. It was therefore an easy leap for me to immediately understand the power and allure of geospatial technologies, and why having an interactive 3D replica of our very own terra could have so many exciting applications beyond even the digital transformation project for earthworks.
Since the commencement of Komatu's partnership with Cesium I have been and continue to be enraptured with all of the use cases Cesium's 3D tiling technology is applied to. Over the years I have also gotten to know Patrick and the Cesium team. 
Inspired by their dedication to 3D geospatial open source projects and industry standards, by their supportive company culture, and by their firm place at the forefront of the geospatial technology for the metaverse community, I feel honored and excited to now have the opportunity to be a part of this team.
Patrick: We're both big believers in the metaverse and thankful to be in computer graphics during such a pivotal era. What are your hopes for the metaverse?
Anatolii: In the late 20th and early 21st century, an interconnected web of computers, today known simply as the internet, forever revolutionized the world.
Although no official definition may yet exist in common dictionaries, I and so many others feel that the future of the metaverse expands upon this incredible age of connectivity. Instead of accessing the world through our phones or laptop screens, we ourselves may be transported as virtual avatars into a massive, persistent, three dimensional world filled with virtual representations of other people, places, and things. I like to think of it as a cheesy name for a summer blockbuster film - 'Nouns in 3D!!'
In addition to near unlimited possibilities for connecting people with each other, I also think of the metaverse as an exciting extension of many of the insights already cemented within the technical and artistic innovations of the games industry. Games transport players to other worlds and grant players the power to experience lives beyond their own—from the magical to the mundane, from epic intergalactic adventures to planting turnips while befriending a village of critters. As a massive connected virtual world, the metaverse presents the opportunity to expand what is possible in games today, and to introduce elements of gaming into social experiences, business, and all manner of individual and collaborative pursuits.
While the promise of the metaverse is indeed filled with exciting opportunities, I also feel there are many critical unanswered questions and unsolved problems—many of which we don't even know about yet. I'd like to see a metaverse where many, not just an elite few, can contribute to and benefit from their participation in the metaverse. I'd like to see the metaverse be accessible and safe for everyone. Although I believe the metaverse will be populated with many newly created worlds, I am also excited for technologies like Cesium to make our own world available for discovery and learning, virtual travel and leisure, and of course gaming - think Fortnite in the backyard of your friend who lives 3,000 miles away.
Patrick: You're done a lot of International business, especially in Japan. What lessons have you learned?
Anatolii: Although there are many cultural, business, or other possibly amusing anecdotes I could share, I'd say the biggest thing I learned while working in Japan and still apply in my life and work today is an approach called saidokakunin, which can translate to "confirm and then confirm again."
I found in working with Japanese companies a practice wherein many of my business partners and fellow teammates would regularly ask, "Did you check, and then check again?" In addition to being a practice steeped in a long-standing social philosophy of approaching problems as a group instead of as individuals, saidokakunin has on many occasions proved to be an invaluable asset in my personal and professional life.
Working on cross border projects presents the obvious inherent challenges like managing different time zones, cultural norms, and of course, language. While the Japanese language is certainly challenging on its own, embracing the art of saidokakunin ensured that I could always know what my interlocutors had intended to communicate, and that they understood my message in kind, regardless of whether we were speaking in Japanese or English. In addition to proving a useful tool for overcoming linguistic hurdles, saidokakunin had other applications in my career. When working with Japanese executives to bring their restaurant brands to the US, saidokakunin ensured I connected their companies with all of the necessary tools and services to allow their business to adapt for success in foreign markets. When working in international private equity management, saidokakunin helped ensure I was prepared for unimaginably complex and challenging legal and partner negotiations that bore multi-million dollar consequences if not navigated carefully. 
Although I am cognizant of the many ways Cesium and other companies outside of Japan encourage agile, independent, and fast-acting teams, I'd like to think that my now firmly ingrained practice of saidokakunin both empowers and reinforces my disciplined approach to my work, and that it will continue to bear fruit in this and all my future pursuits.
Patrick: You're an avid gamer. What are you playing now and what have you enjoyed most over the years?
Anatolii: My time for games is more precious than it once was, but in between my exciting work here at Cesium, spending time with my family, and reading lots of books, I enjoy playing everything from older arcade legends like Asteroids, my old Super Famicom, to the latest cutting edge graphical showcase titles on the PS5. Some of my all time favorite series are Super Mario, The Legend of Zelda, The Elder Scrolls, The Witcher, Age of Empires, Metal Gear Solid, and Yakuza (Ryu ga Gotoku). Each of these have been pretty impactful on parts of my life—from playing Mario at a young age in the hospital with my sister who needed distraction while she was recovering for nearly six months following major surgery, to falling in love with history while learning about the empires of medieval Europe in Age of Empires, to stoking my ever-constant desire to return to Japan while exploring the streets of Tokyo in the Ryu ga Gotoku games.
A couple of years ago I also started developing a platform of interactive exhibition experiences using VR and other game technologies. The project is intended to celebrate and educate about the visual, technical, mechanical, and narrative innovations of the video game industry's past, present, and possible future. As a result I've been sampling a very wide range of titles as part of the project's research of the industry. 
Patrick: What didn't I ask that you would like to share?
Anatolii: Loving what you do can be a double-edged sword—if work doesn't feel like work, can you ever really stop? While I am very happy to be able to say I love what I do, I also firmly believe in the restorative power of taking a pause away from whatever consumes your energy—be it work or some personal project. For me, I have enjoyed taking breaks by drinking Japanese and Chinese tea. The preparation demands focus and calm—two things I often wish to reclaim during the hustle and bustle of daily life or work. Tea is how I connect with both myself, and at times, with others. I encourage everyone to find whatever gives them that sense of pause as I believe it is one of the roads to realizing success in any endeavor.
We're happy to have Anatolii on the team. To find your place on our team as we continue to grow, check out our careers page.