Cesium Wins GEOINT 2020 Innovative Tradecraft Competition
Cesium is the grand prize winner of the GEOINT 2020 Innovative Tradecraft Competition!
The inaugural competition, sponsored by by the United States Geospatial Intelligence Foundation (USGIF) and the Open Geospatial Consortium (OGC), provided an opportunity to demonstrate best practices in data discovery and alignment and address mission problems through visualization, data sharing, and interoperability.
We are thrilled to be recognized for these core strengths and humbled to win the top prize for our presentation, which showcased the interoperability of 3D Tiles, as well as using 3D Tiles for real-time and offline analytics.
More than 150 remote attendees watched presentations on the latest innovations in geospatial intelligence before determining the winner via live voting. Our colleagues made for fierce competition, but in the end the audience was impressed by Cesium's progress towards increasing interoperability between authoritative and archival formats (e.g., CDB, GeoTIFF, OBJ) and runtime-optimized formats (3D Tiles, glTF) to be deployed on mobile devices in disconnected environments.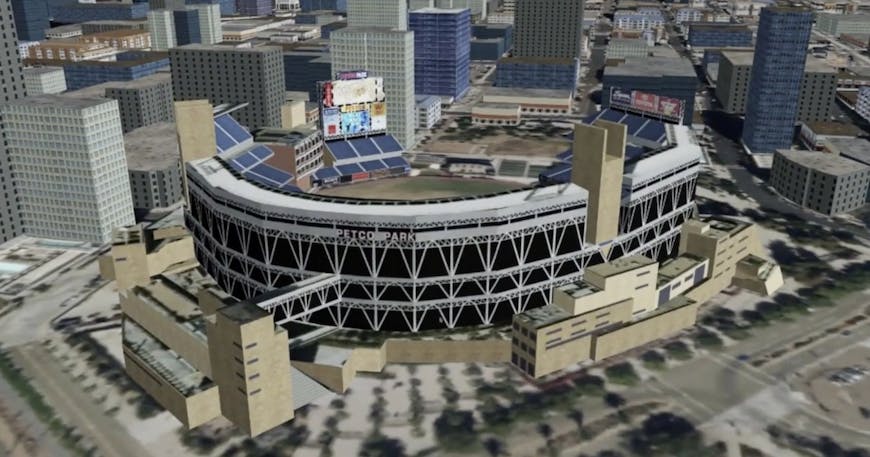 The winning pitch, presented by Youssef Victor, featured best practices for authoritative and runtime formats and covered considerations for disconnected mobile use. To demonstrate this we converted a San Diego CDB dataset, courtesy of USSOCOM, to 3D Tiles and loaded the data into CesiumJS running on a disconnected mobile phone. We also showed real-time and offline analytics tools such as measurements, line-of-sight, and viewshed analysis with 3D Tiles. Watch the video to see the presentation.
We'd like to thank USGIF, OGC, and all those members of the GEOINT community who attended the competition. Thank you, also, to judges Terry Busch of the Defense Intelligence Agency; Jeff Harris, USGIF Chairman; Nadine Alameh, OGC CEO; Keith Littlefield, SAIC; Susan Gordon, former Principal Deputy Director of National Intelligence, for choosing Cesium as a finalist back in February, as well as Robert Cardillo, former Director of NGA and Cesium Advisory Board member, who abstained from voting on our pitch.
Congratulations to fellow finalists Deloitte, HawkEye 360, and Sandia National Laboratories. We are proud to be part of a strong community of innovators working to advance the GEOINT tradecraft. If you need to visualize or analyze geospatial datasets for an innovative use case, we'd like to hear from you.