Smart City Infrastructure in CesiumJS: Connecting Nicosia
CYENS Centre of Excellence in Nicosia, Cyprus, focuses on emerging technologies and interactive media to move the region forward through academic research and innovation. One way it's doing that is through building the iNicosia flagship project, a digital twin of the divided capital city connecting the city's smart infrastructure and IoT data, visualized in CesiumJS.
CYENS, funded by the European Union, is a joint venture among the University of Cyprus, Cyprus University of Technology, Open University of Cyprus, the Municipality of Nicosia, the Max Planck Institute for Informatics, and University College London. Work on iNicosia began in 2018, and the push to immersive 3D and the desire to share information widely made Cesium the right fit for the accurate, interactive model of the city.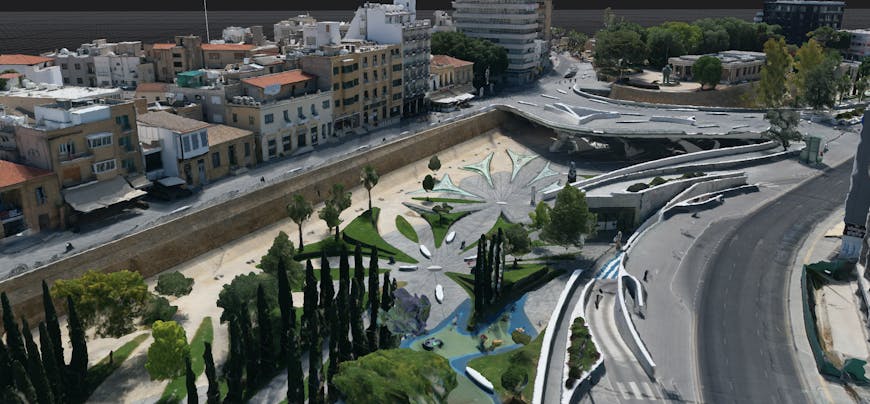 iNicosia incorporates highly detailed 3D models created by the team using both terrestrial and aerial photogrammetry and laser scans, time-series data, smart city and IoT data, and Bing Maps Aerial imagery and Cesium World Terrain to present Nicosia accurately and digitally: city landmarks and monuments, road networks, environmental data, vegetation, and other facets of daily life for residents, tourists, and businesses. CYENS stores iNicosia data on Cesium ion, where it is also tiled into 3D Tiles for streaming and sharing in CesiumJS. Architects, land registries, researchers, government agencies, and the public can share and access data in iNicosia.
For some particularly high-definition reconstructions and animations, CYENS uses Cesium for Unreal to combine graphics rendering power and accurate geospatial context.
The quality of 3D reconstruction is especially important to the CYENS team, with a focus on cultural heritage and even an eye on reunifying the city, which has been divided since the 1970s. With the ability to share information and ideas through Cesium-based iNicosia, the communities on the island can collaborate.
Readers can explore CYENS's Cesium Stories about reconstruction progress for iNicosia. To build your own CesiumJS app with global 3D data, follow the tutorials in our learning center.