Building the Open Metaverse: Cloud Infrastructure
In episode three of Building the Open Metaverse, Cesium CEO Patrick Cozzi and Marc Petit, VP and General Manager of Unreal Engine at Epic Games, are joined by guest Bill Vass, the Vice President of Engineering at Amazon Web Services, to discuss Cloud Infrastructure for the Metaverse.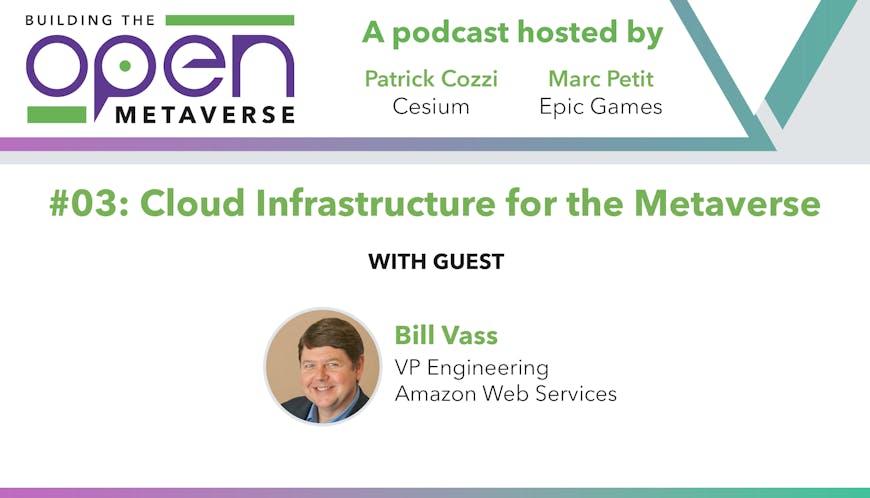 While the term "metaverse" is gaining widespread popularity, Bill said he's always thought of it as "3D spatial computing." He said the metaverse bridges the physical and virtual worlds, allowing people to scan anything in the physical world and bring it into the metaverse, and to 3D print anything in the metaverse so it's accessible in the physical world. This will be possible because many technologies that have been evolving independently up to this point are now converging in a way that will unlock many more capabilities. 
"I see this convergence happening between the gaming world, the simulation world, the retail virtual try-on world, the AR/VR world, and the movie rendering world," he said. "And then all of the physics and simulation capabilities, along with 3D mapping and geospatial worlds, all coming together."
But bringing these diverse technologies together won't just happen. According to Bill, "there are hundreds of different CAD formats, and hundreds of different image formats, and hundreds of different 3D formats, and we've really got to work to converge those since everybody built their own; and so we've got to start converging on a common set of standards that allows portability, because we really should be able to take a CAD/CAM of something, import it into an engineering simulation, import it into a video game, import it into a movie CGI, and then also print it out in 3D."
"You're giving us a glimpse of how sophisticated all of those software layers are going to be. There will be no magic. Brute force is not going to take us to the metaverse. We're going to have to go through layers of abstraction and optimization. So a lot of complex engineering work is ahead of us." - Marc Petit
Bringing it all together will require a lot of foundational work on standards. Bill, Patrick, and Marc talked very concretely about solving these complex challenges. Beyond standards for 3D asset management and interoperability between software programs, part of bringing the metaverse to multiple devices is knowing which parts of the computing should be done where, whether to compute locally or offload to the cloud, to run on 5G or terrestrial wireless, to connect through WiFi or cell signal or satellite, and an open standard to make those decisions on the fly based on current conditions. 
Listen to the full episode and subscribe for future discussions about building the metaverse.