Surfacing Long Lost Shipwrecks with Cesium for Unreal
The Cesium for Unreal plugin brings geospatial to game engines, making it possible to create high fidelity digital replicas of the real world in Unreal Engine. From visualizing construction site surveys to national park tours, developers can give users access to high resolution virtual environments for insights that aren't otherwise possible. 
But access to real world data doesn't limit you to replicating the existing world. Unreal developers can project into the future by visualizing future building developments, analyzing potential solar energy installations, or simulating flight paths. 
Developers can also travel back in time to see what once was in a particular location. Light Heavy Industries, a multimedia design and technology consulting firm, is doing just that with Cesium for Unreal. They've created a replica of a fleet of ships that has all but disappeared. 
Mallows Bay is a United States national marine sanctuary where the remains of over 100 wooden steamships known as the Ghost Fleet now provide habitats for a variety of local wildlife.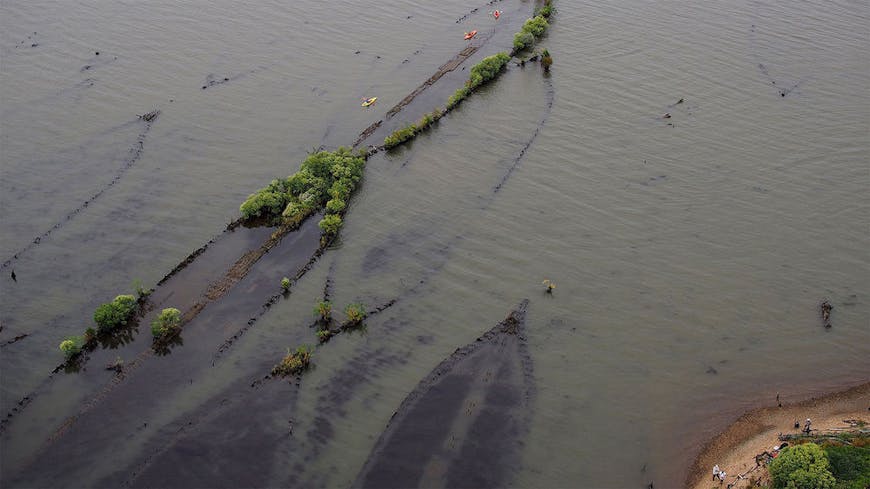 Most of the ships were built for use in World War I, but the war ended before the ships could be used and they were brought to Mallows Bay, where their metal engines and propellers were to be salvaged. A century later, only a handful of these ships rise much above the waterline.
With just skeletons of the ships in the water, there's little to give visitors a sense of the extent of the fleet. To create that visualization, Light Heavy Industries used Cesium for Unreal. 
They started with contemporary and archival aerial imagery datasets, including a comprehensive survey of the site by Duke University's Marine Robotics and Remote Sensing Lab. Light Heavy Industries added these datasets to Cesium ion for streaming into Unreal Engine through the Cesium for Unreal plugin.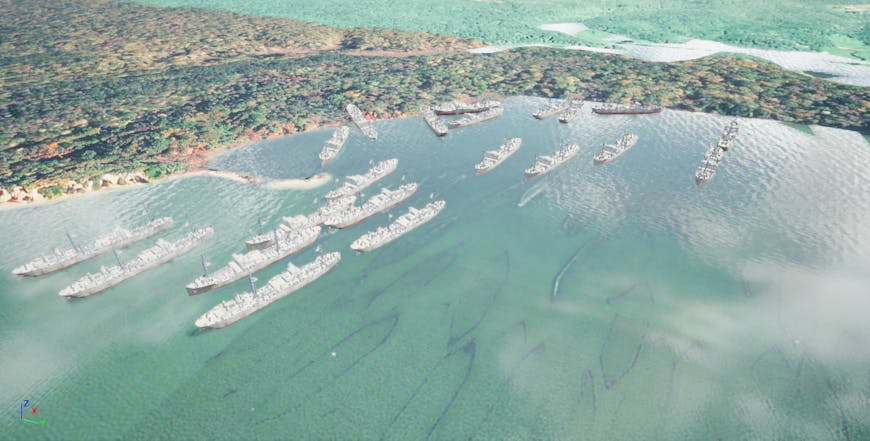 They were able to then accurately position models of Ferris-class cargo vessels, which are typical of most of the ships in the fleet, at the locations where visible wreck outlines can be seen today. There are approximately 85 of these wrecks in all.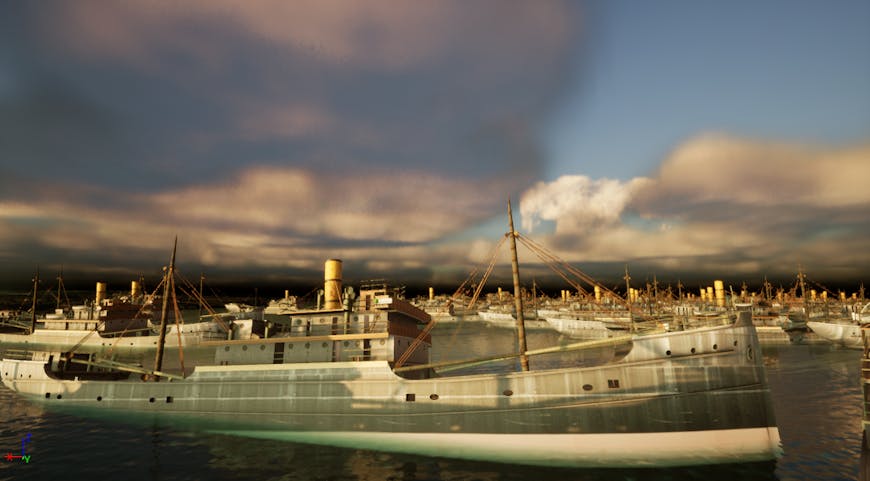 Light Heavy Industries used Cesium's accurate terrain, in conjunction with Unreal Engine's water capabilities, volumetric clouds, and exponential height fog, to complete the environment. They then built motion sequences, from which they created a demonstration video.