DiscovAR Dublin Highlights the City's Hidden Gems with Cesium for Unity
DiscovAR Dublin, Dublin's first AR 3D map, uses Cesium for Unity and Google Maps Platform's Photorealistic 3D Tiles to go beyond traditional guidebooks and internet searches, bringing hidden gems to the city's explorers on their mobile devices.
DiscovAR Dublin was released in summer 2023 and is the fourth experience in the Dublin Discovery Trails app, developed by Peel X. The app won second prize at the European Cultural Tourism Network awards in October 2023.
The other experiences in the app—Balbriggan Heritage Trail, Castleknock Heritage Trail, and Doors into Docklands—rely on 2D to share the area's rich history. DiscovAR Dublin brings real-world 3D data to users to immerse them in the city's culture, either in Dublin itself or from their homes across the world. Highlighted locations include Epic: The Irish Emigration Museum, the Guinness Storehouse, and 14 Henrietta Street, a restored 18th century home.
Rather than creating their own separate apps, multiple Dublin stakeholders put their resources into Dublin Discovery Trails, including local authorities, tourism, and the smart city program. 
"These projects are never about downloads and ROI; they're about user experience and pushing the boundary of the tech," said Barry Rogers, Dublin City Council member who oversees tourism technology projects. "Cesium enabled us to push boundaries with this experience for our city."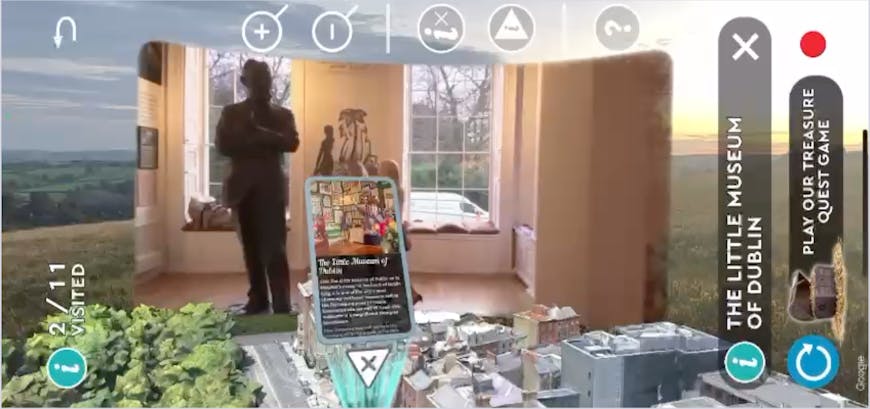 With Cesium for Unity, Google's Geospatial Creator, and Photorealistic 3D Tiles via Google's Map Tiles API, Peel X designed DiscovAR Dublin to stream massive 3D datasets as 3D Tiles to users' iOS and Android devices, balancing a smooth rendering process with bandwidth conservation. Peel X noted Unity's integrated development environment for building this 3D tourism experience and its ease of output to the mobile marketplace, all helping to get DiscovAR Dublin into the hands of curious travelers. Accurate locations and geospatial context are vital for truthfully representing the city's landmarks and history and for wayfinding among the attractions. Gamifying a tour of Dublin and presenting the experience in 3D helps with connection for in-person visitors, mobile-only visitors, and even residents. 
Peel X's Jon Martin, lead developer, and Jessica Wright, managing director, shared their curiosity about the role the metaverse may play in tourism and urban planning in the future. 
"Peel X plan to explore further uses of Cesium within products and outputs over the coming months, not only to enhance existing work but drive new routes to market and offer new solutions to clients. Cesium opens up digital twin capabilities and allows us to blend existing data feeds into a real-time shared experience that will aid complex remote geospatial conversations globally," Martin and Wright said.
Future 3D experiences in Dublin Discovery Trails could include aerial tours and added interactivity.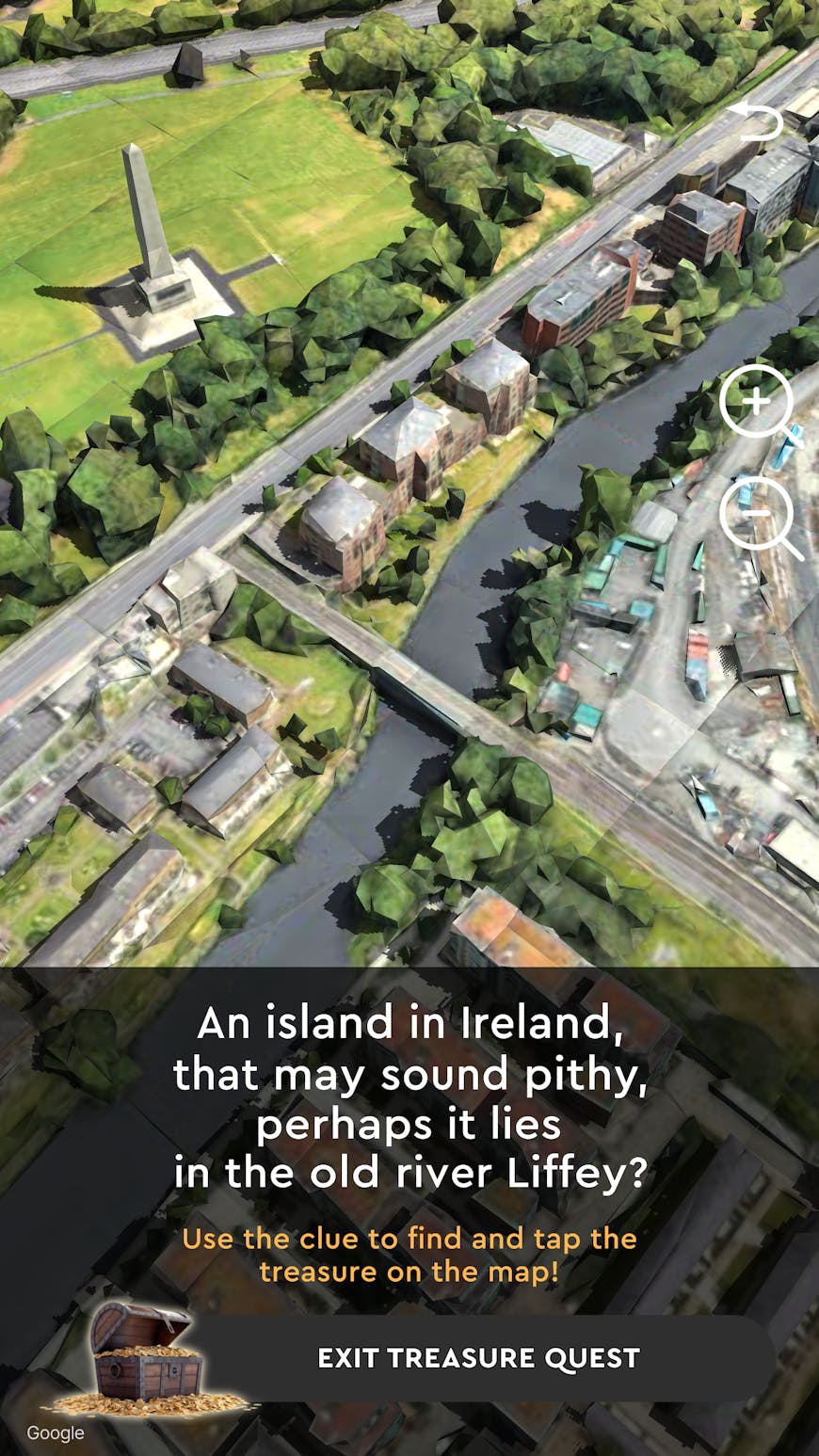 With cultural information and immersive 3D, DiscovAR Dublin promotes exploration and piques interest for future visits. 
What are you building with Cesium for Unity? Follow our guide to add Photorealistic 3D Tiles to your project.