Tosolini Productions Builds AI-Powered City Exploration with Cesium for Unity
Creative studio Tosolini Productions uses emerging technologies to help its clients tell their stories. As part of Tosolini's R&D into the best ways to serve clients, the studio created a prototype for AI-powered city exploration using Cesium for Unity, Google Maps Platform's Photorealistic 3D Tiles, and OpenAI.
Founded in 2014 in Seattle, Tosolini Productions often incorporates large touch screens for presentations, 3D scanning, or AR/VR in its work supporting clients' needs, especially at trade shows. To explore what's possible with both existing and emerging technologies, Tosolini has added both AI and geospatial data to its repertoire and has been sharing the results.
"Cesium's platform provides the reliable and adaptable geospatial tools we needed at Tosolini Productions. For agencies like ours, Cesium enhances the precision and depth of our storytelling, grounding it in tangible, real-world locations," said Paolo Tosolini, the studio's founder.
The AI-powered city exploration prototype highlights local attractions in 3D according to user input.
The experience begins with a request for location and attraction, akin to asking "What are the best parks in New York?" or "Where is the best pizza in Rome?" It's up to OpenAI to produce the answers, consisting of the top three attractions and their coordinates. These coordinates are passed to Cesium for Unity for georeferencing and visualization with Google Maps Platform's Photorealistic 3D Tiles, providing accurate locations and geospatial context.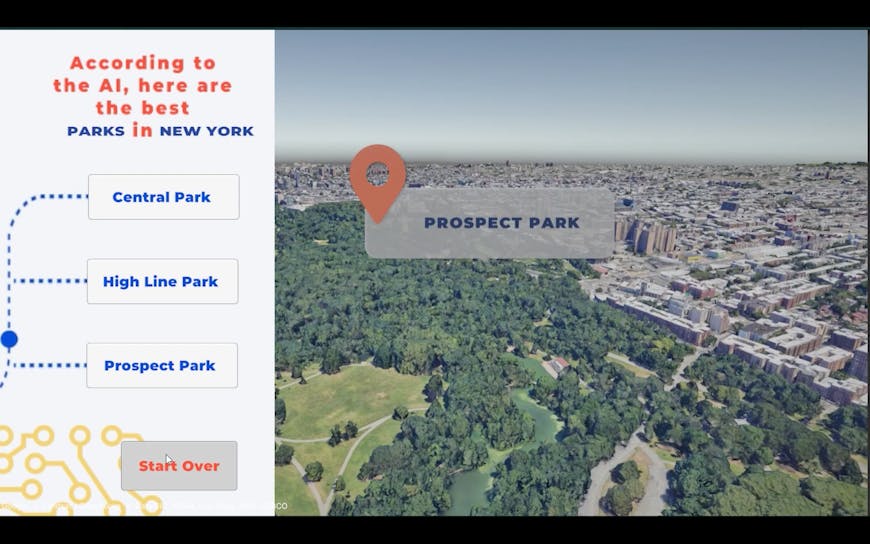 "We thought georeferencing would be a challenge, but it was actually quite simple because of Cesium," said Maria Sanchez, Tosolini's XR specialist.
With Photorealistic 3D Tiles available for more than 2,500 cities across the globe, the prototype has no lack of real-world data, optimized and streamed to Unity as 3D Tiles. Pairing immersive real-world data with AI means users get relevant results brought to life—accurate 3D data ensures patrons truly "know before they go." 
Right now, the AI-powered city exploration demo runs locally, but the studio will experiment with making it available online to the public.
To add Photorealistic 3D Tiles to your Cesium for Unity project, follow our tutorial.