Cesium World Terrain and Australia's Rock Formations
Cesium World Terrain, the new high-resolution global terrain tileset hosted by Cesium ion, combines multiple data sources into a single quantized-mesh terrain tileset. The terrain tileset for Australia was recently updated and terrain quality for the country has improved to 5 meter resolution in populated and coastal areas.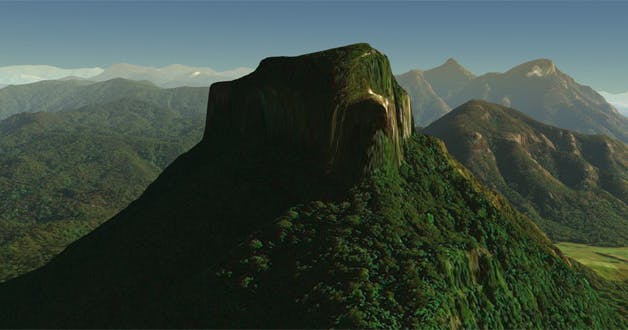 Australia may be the world's smallest continent, but it is also one of the largest countries, known for its culture, wide open spaces, large cities, beaches, deserts, "the Outback," and awe-inspiring natural wonders. With so much to explore, we decided to take a closer look at a few of the natural rock formations and areas known for their Aboriginal rock art across the country.
Uluru
One of Australia's most recognizable natural landmarks is a large sandstone rock formation known as Uluru, or Ayers Rock. The formation is sacred to the Aboriginal people of the area and stands 348 meters high, rising more than 860 meters above sea level. That's taller than both the Eiffel Tower and the Chrysler Building! The area around the formation has a number of springs, water holes, rock caves, and rock art dating back at least 5,000 years. Travelers come from all around to see the rock glowing red at dawn and sunset. Until you can plan a trip for yourself, try playing with the time of day and shading features in Cesium to see this effect.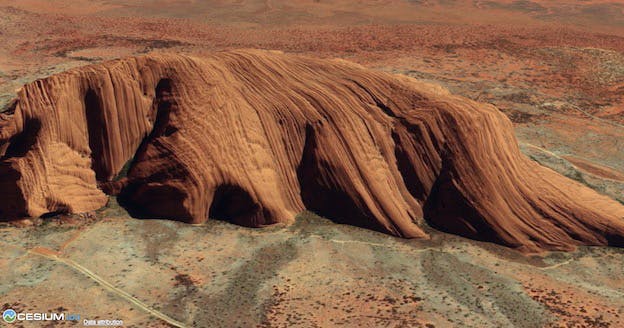 Murujuga
Murujuga, also known as the Burrup Peninsula, is an island in the Pilbara region of Western Australia. The largest group of standing stones in Australia can be found here. The peninsula is also home to one of the world's largest and most historically important collection of petroglyphs. There are over one million ancient Aboriginal rock carvings present in the area that offer a record of the sea levels rising over time, reveal how the Aboriginal people adapted to their changing land, and depict a number of extinct sea and land animals, including the Tasmanian tiger.
Grampians National Park
The Grampians National Park, found in the Grampians region of Victoria, Australia, features impressive sandstone mountain ranges and is one of the richest indigenous rock art sites in southeastern Australia. The motifs represented in the ancient rock paintings include depictions of animals, animal tracks, handprints, and humans.
Blue Mountains National Park
The Blue Mountains just outside Sydney are a sandstone plateau with dramatic rock formations, steep canyons, eucalyptus forests, and hazy blue vistas that gave the area its name.
Aboriginal people have lived in the area for thousands of years, and their rock art can still be seen throughout the area. The Red Hands Cave is one of the most famous, with walls that have been covered with layers of red hand stencils and prints that were added at least five centuries ago.
Try Cesium World Terrain in your own application today!