Santa to visit the International Space Station in NORAD Tracks Santa®
Tracking Santa has become an annual tradition here at Cesium, and this year is no different! Cesium is delighted to once again join the North American Aerospace Defense Command (NORAD) and other partners to develop the official Santa Tracker, marking the 65th anniversary for NORAD Tracks Santa® and our eighth year providing cutting-edge 3D Santa tracking technology.
We also just got word from the North Pole that Santa is planning a ceremonial flyby to honor the 20th anniversary of continuous life on the International Space Station (ISS), a milestone reached in November. In those twenty years, 241 individuals from 19 countries have occupied the space station, which is currently operated by a crew of six people as it orbits the Earth at five miles per second. This year, Santa's sleigh will join Northrop Grumman's Cygnus, SpaceX's Dragon, JAXA's HTV, and the Russian Progress on the short list of cargo spacecraft that deliver "presents" to the ISS.
All day on December 24, visitors to NoradSanta.org will be able to glimpse a 3D model of Santa as he delivers presents and a 3D model of the ISS as it orbits the Earth, each in their precise, real-time locations.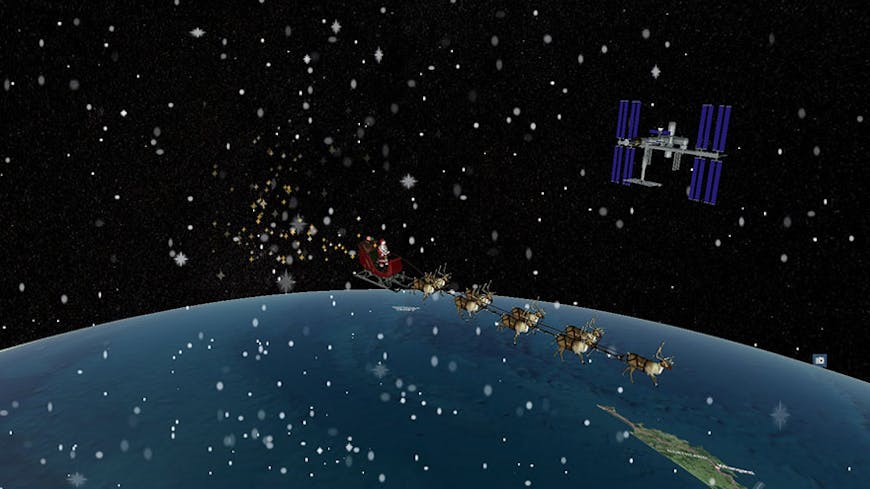 NORAD Tracks Santa began with a misprint in a department store advertisement in 1955. A child hoping to speak to Santa instead reached the crew commander on duty, U.S. Air Force Colonel Harry Shoup, at the Continental Air Defense Command Operations Center, the predecessor to NORAD. We're proud to help continue this holiday tradition that brings joy to millions of users around the world.
Visit Santa's Workshop at Cesium to have some fun while learning more about the 3D geospatial tech behind NORAD Tracks Santa.