Cesium Release Roundup September 2020
This was an exciting month with the announcement that Cesium is the grand prize winner of the GEOINT 2020 Innovative Tradecraft Competition. We had a lot of fun sharing what we've been up to this year at the SIGGRAPH cartography BoF, and brought on several new members to the Cesium team this month. And we're still hiring! Come be part of this exciting moment in 3D geospatial.
Cesium ion updates
We've added the ability to edit access tokens on Cesium ion, enabling you to extend or revoke permissions for a token without having to update your application's code.
Cesium OSM Buildings have been updated with new OpenStreetMap data, new per-building longitude and latitude properties, and improved building generation.
Adding per-building longitude and latitude allows you to style buildings based on their distance to a known location. This is useful for creating heatmaps, to visualize the proximity of all buildings to an explosion site, or to a volcano for example: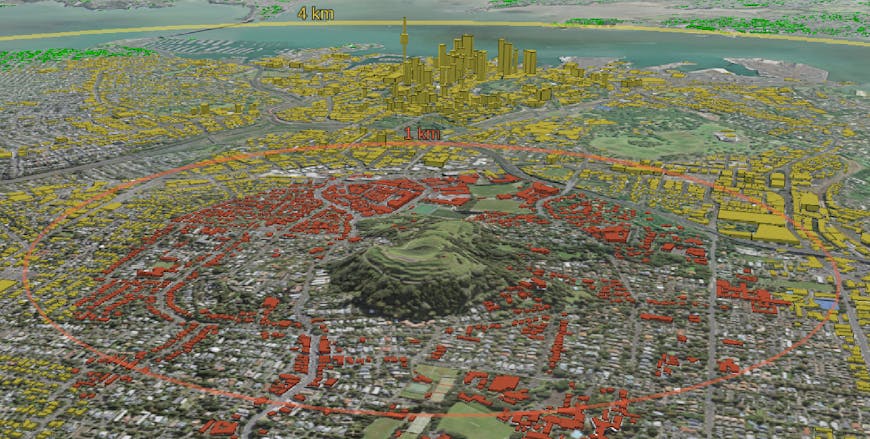 Read about how this works and see a code example on the Cesium community forum.
CesiumJS 1.73 release
CesiumJS 1.73 is now available. Highlights of this release include:
Viewer now allows 3D Tiles features to be selected and will display their properties in the default Viewer InfoBox.
Added support for the CSS line-height specifier in the font property of a Label.
Fixed two terrain-related bugs that could cause expected terrain detail to be missing or delayed.
Fixed several rendering artifacts on mobile devices.
See the changelog for a full list of updates and links to the discussion & code on each one.
High Res Indoor and Underground with Kaarta LiDAR data
This month we showed off some exciting underground and indoor rendering we did in partnership with Kaarta, whose handheld scanners make it possible to quickly image cluttered urban spaces, and to potentially update them very frequently.
They scanned and geolocated New York City's East Side Access, which we brought into Cesium and intuitively visualized with our new support for underground rendering. We submitted our work to an NSIN Dense Urban Online Challenge and were selected as one of five teams to move on to an in-person hackathon.
If you're collecting underground data, follow our post on underground visualization to bring it into CesiumJS.