Cesium Version 1.8 Released
We are pleased to announce the release of Cesium 1.8.
Highlights include:
Added a new Sandcastle demo, Interpolation, which illustrates time-dynamic position interpolation options and uses the new VelocityOrientationProperty to orient an aircraft in flight.
Added support for the KML visibility element.
Added Entity.show, a boolean for hiding or showing an entity and its children.
Deprecated the smallterrain tileset. It will be removed in 1.11. Use the STK World Terrain tileset.
For the full list of changes, see the change log.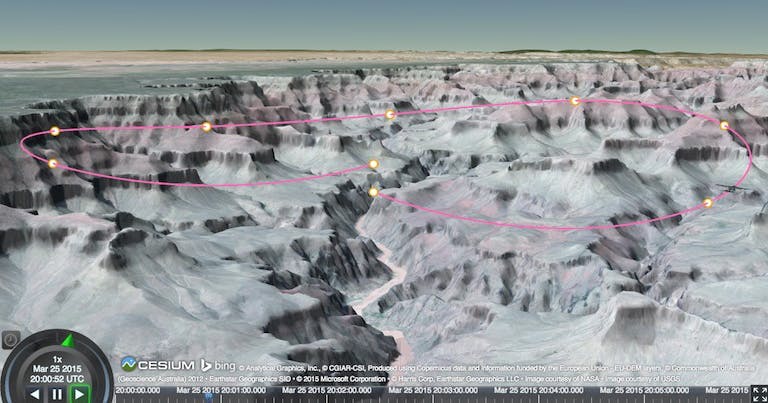 Other Cesium news from March
We're showcasing several new apps on the Cesium website. Check out Windows on Earth, G.E.O., Divvy.Vision, and EclipseTracks.
Christopher Clark, creator of EclipseTracks, made significant contributions to the CZML Python Library and also released eclipsescraper for scraping NASA's eclipse site into CZML.
Check out daily 250m imagery in Cesium from NASA GIBS, MapBox Mars in Cesium, and Cube Cities's updates: Examining Hollywood's 3D Cities and New York Supertalls: 432 Park Avenue.
In Cesium taking the Mantle from Google Earth, Alan Lindsey discusses replacing Google Earth with Cesium.
Released collada2gltf-web-service], sample code for a Node.js web service to convert 3D models from COLLADA to glTF.
The Cesium lab at AGI now sports a Cesium rug which, of course, helps us code better.
On the conference front