Cesium Version 1.7 Released
We are pleased to announce that Cesium version 1.7 is now available for download.
Here are just a few of the highlights from the release:
Added initial support for KML 2.2 via KmlDataSource. Check out the new Sandcastle Demo and the reference documentation for more details.
Added support for rendering a water effect on Quantized-Mesh terrain tiles.
Added camera-terrain collision detection/response when the camera reference frame is set.
InfoBox sanitization now relies on iframe sandboxing. This allows for much more content to be displayed in the InfoBox (and still be secure).
For the full list of changes, see the change log.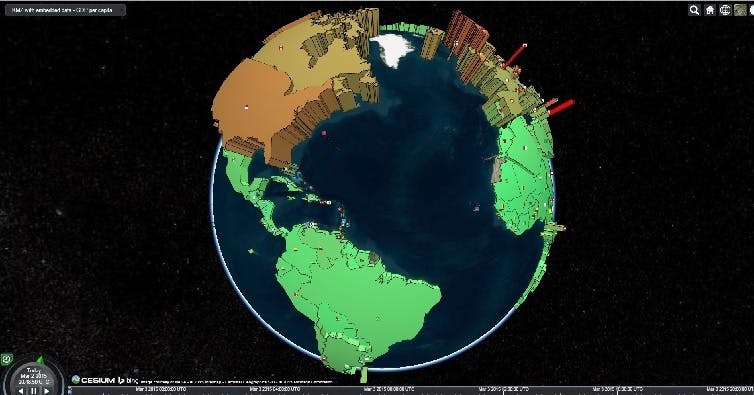 Other recent news and postings
We created a new Cesium for Google Earth developers resources page to help developers migrating from the GE plugin. This has 30 GE examples and demos ported to Cesium, including the popular Monster Milktruck. This was covered by the Google Earth blog.
Greg Angevine, from Cube Cities, wrote a great article, Cesium: The Best Choice For Mapping On The Web. Cube Cities also continues to make excellent progress with their Cesium app like their visualization of the available office space in the Durst Organization's Midtown Portfolio.
Cesium was accepted as a mentoring organization for Google Summer of Code 2015.
The STK World Terrain dataset used by Cesium now supports water effects. Also see the updated terrain tutorial.
There is a new showcase for Create.io, a real-estate app.
Check out the new CartoDB plugin for Cesium.
We released a small utility, gltf-statistics, for getting performance statistics for 3D models.
The Cesium forum reached 500 users and 2,000 topics, and is growing quickly.
Cesium is now part of OSGeo-Live 8.5. Thanks to Balasubramaniam Natarajan for taking the lead on this.
On the conference front, we presented The Rise of 3D GIS on the Web at NCGIS 2015, and are gearing up for our talk and booth at FOSS4G NA in the second week of March.
AGI's Cesium team attended the OSGeo Code Sprint.