DroneDeploy Using Cesium to Visualize Massive Point Clouds
DroneDeploy is the leading cloud-based platform for commercial drones, with the world's largest drone data repository. Their platform serves drone operators, allowing them to manage flights and to visualize and analyze imagery.
Users can upload captured imagery to the cloud and use it to create and share detailed maps and 3D models. DroneDeploy uses Cesium to efficiently visualize massive point clouds, even on mobile. DroneDeploy's users have mapped 30 million acres in 180 countries and on 400,000 job sites.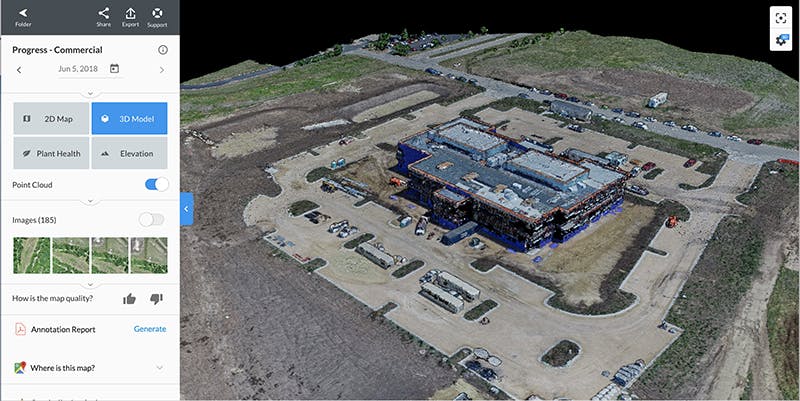 DroneDeploy's annual user conference is October 11–12 in San Francisco. The conference will include industry-specific sessions and workshops to help users take better advantage of drone data to improve their businesses.
OneSky, which is also built on Cesium, is a sponsor of the conference. Their apps on the DroneDeploy App Market provide a flight's predicted height above the terrain throughout a planned route and offer a one-hour forecast of the number of GPS satellites available in a flight's range as well as the positional accuracy those satellites will likely provide. OneSky will be exhibiting at the DroneDeploy conference.
Cesium's Patrick Cozzi will also be there. If you'd like to talk about visualizing drone data in 3D, email him to meet up.