Cesium to Share "A Vision of the Metaverse" at GTC

Cesium CEO Patrick Cozzi will join a panel of metaverse futurists at NVIDIA GTC, the premier computing conference, for a forward-looking discussion about the metaverse: what it will be and what the major challenges and next steps are. He will appear alongside a number of prominent metaverse thinkers, including Epic Games CEO Tim Sweeney; Roblox chief scientist Morgan McGuire; Dean Takahashi, the lead writer at VentureBeat; and Rev Lebaredian, the VP of Simulation Technology and Omniverse Engineering at NVIDIA.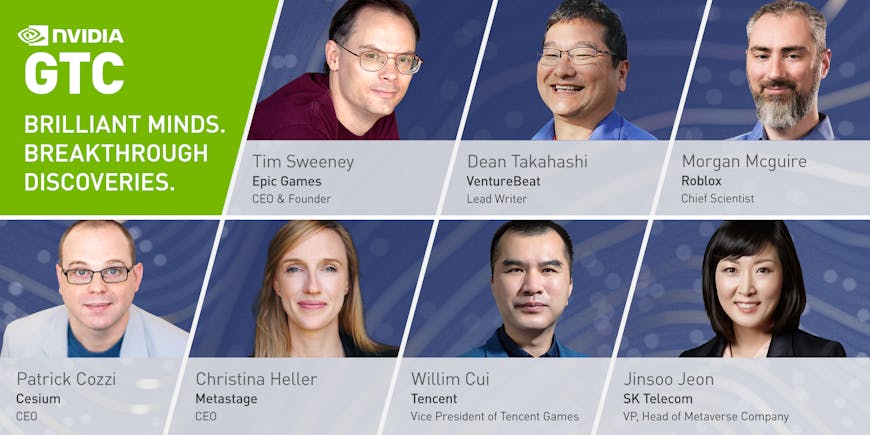 Patrick will share his vision of the metaverse, the next step in computing that is just now dawning. In that metaverse, 3D engines will replace web browsers and web pages will become immersive 3D worlds. Among the current challenges to creating those 3D worlds is the sheer scale of the physical world, and the pipeline of digitizing it, from sensors for data acquisition to AI that adds semantics, to formats that can store and disseminate that information. Open standards such as 3D Tiles facilitate the collaboration required to build the metaverse.
The virtual event will be Tuesday, November 9, at 1:00 PM EST. Registration is free and provides an opportunity to join a virtual chat with the panelists to ask your questions about the metaverse. 
For more insights on the metaverse, subscribe to Building the Open Metaverse, a podcast hosted by Patrick Cozzi and Marc Petit from Epic Games.