Participate in NASA's International Space Apps Challenge
This weekend is the NASA International Space Apps Challenge, the world's largest hackathon. Tens of thousands of people around the world take on NASA's challenges in this 48-hour global sprint.
Originally designed for aerospace applications, Cesium is ideally suited to meet these challenges, which range from using NASA's free and open data to better protect Earth's oceans to developing creative ways to explore the stars.
We're happy to offer Space Apps participants a free commercial level Cesium ion account for 3 months. Just sign up for a community account and shoot us an email to tell us about your project!
Cesium has come a long way since we first participated in the 2013 NASA International Space Apps Challenge. As part of that challenge we developed EarthKAM Explorer, a viewer for images taken by the ISS that earned second place in the judging at the Philadelphia event.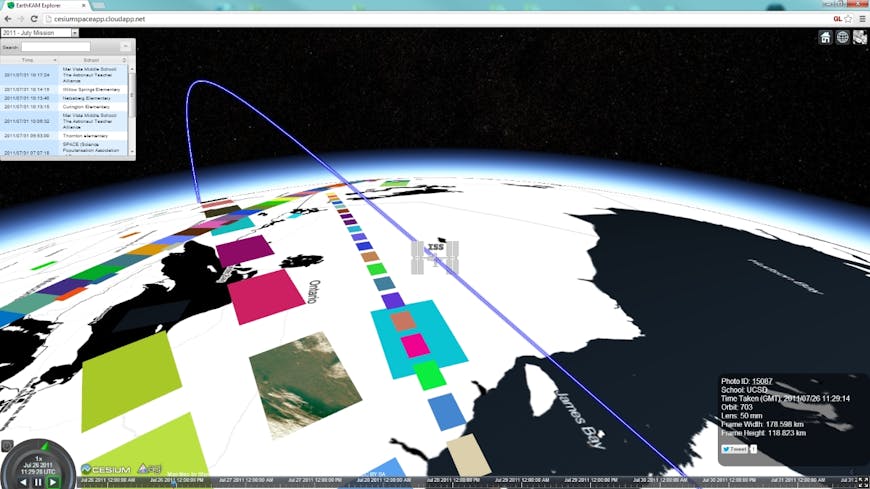 EarthKAM Explorer, a Cesium viewer of satellite images taken by middle school students through the ISS EarthKAM program.
In the years since, developers have used Cesium for a wide range of space and other apps, including:
AGI uses Cesium for the visualizations of the ComSpOC, a space situational awareness facility that tracks more than 15,000 space objects.
UNISEC Earth shows the origin and orbits of satellites built by students in the University Space Engineering Consortium.
This app displays the orbit of NASA's Maven mission to Mars.
Vesta Trek visualizes a non-spheroid body: the asteroid Vesta.