Swiss Geospatial Portal: Switzerland's 3D Map Viewer for Federal Infrastructure Data
Switzerland's Federal Office of Topography, swisstopo, has built an interactive 3D map of the entire country. The map, which has been in beta, has now been formally launched. They use the On-Premise version of the Cesium ion 3D Tiling Pipeline to tile their massive data collection, which is then visualized in CesiumJS.
Over the last five years, they've developed a nationwide dataset of buildings that represents all buildings as 3D models with realistic roof shapes and roof overhangs. The vector dataset includes over three million buildings, with position and height accuracy of 30–50 cm.
The public and private sector are already using this dataset for visualizations, animations and analyses in applications as diverse as spatial and urban planning, architecture, real estate, and noise protection. For example, the Swiss Federal Office of Energy assesses the suitability of house roofs for solar panels by performing simple calculations of how much solar power an individual roof could produce.
With its formal release, the map now allows you to view not only all the buildings but also the bridges, aerial cableways, and vegetation in 3D. Two new functions make it possible to move interactively in space: the flight mode makes it possible to explore digital Switzerland in flight, and the virtual walk allows users to stroll through a 3D model of their own neighborhoods.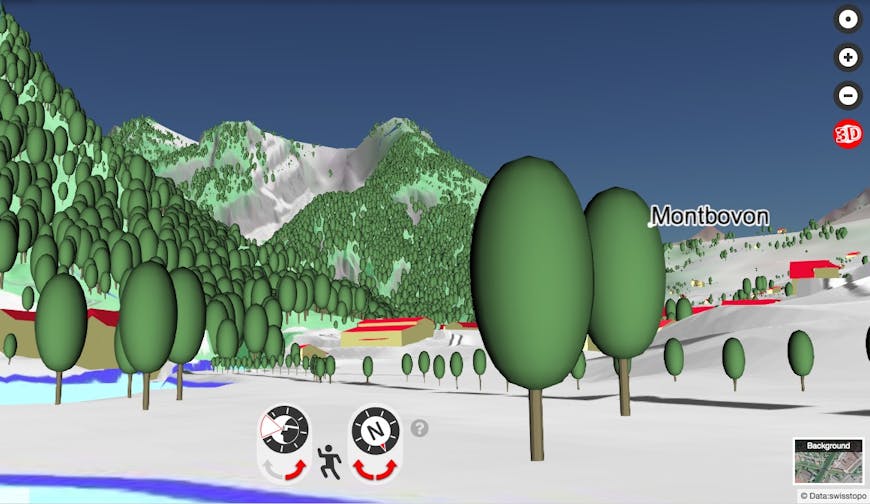 If you'd like to view your own massive dataset in 3D, contact our sales team to find out how you can visualize it with 3D Tiles.