Create end-to-end 3D geospatial solutions
Use the Cesium platform to develop and deploy 3D geospatial solutions for mission-critical operations — fast. Benefit from our leadership in open standards and from open source's rapid innovation cycles, deployed in your secure environment for apps in browsers, game engines, or your custom software.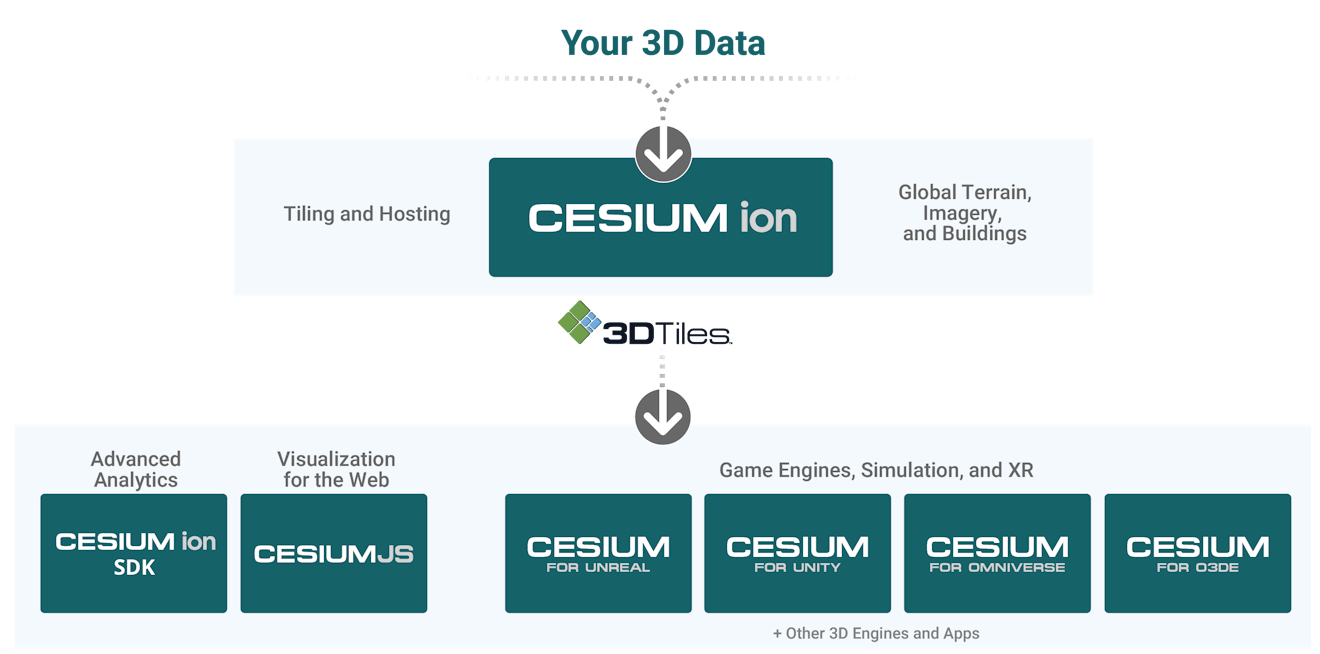 The Cesium 3D Tiling Pipeline is the fastest way to optimize your content for streaming as 3D Tiles.
Cesium 3D Global Content jumpstarts app development, providing precise, global context for your data.
CesiumJS is the state-of-the-art Javascript library for beautiful, accurate 3D visualization on the Web. Add the Cesium ion SDK to create advanced analytics in your custom CesiumJS apps.
Cesium for Unreal is the first high-precision (WGS84) globe in a game engine, bringing Cesium's real-world detail and accuracy to simulated environments.
Cesium for Unity brings 3D geospatial to the Unity ecosystem.
Cesium for Omniverse is an extension enabling 3D geospatial capability for NVIDIA Omniverse.
Cesium for O3DE is a full-scale, high-accuracy globe for the open source 3D engine, O3DE.
3D Tiles of 3D buildings in Manhattan in Cesium ion. Data source: Nearmap
3D Tiling Pipeline
Cesium tiles your massive high-resolution 3D content into 3D Tiles for optimized and efficient streaming over the web.
Point clouds
Photogrammetry
3D models
3D buildings
Imagery
Terrain
The fastest way to stream 3D
Optimize massive 3D content with tools built to scale for lightning fast processing.
Accuracy & precision
Measure, analyze, and make decisions with confidence based on visualizations as precise as your source data.
Stream Cesium World Terrain to 50 cm and Bing Maps Imagery to 15 cm resolution.
Curated 3D geospatial content
Explore our collection of global 3D content, and combine it with your own data for more complete coverage and accurate analysis.
Ready-to-stream 3D content
Cesium World Terrain, Cesium OSM Buildings, and Bing Maps imagery, optimized for 3D map visualization and curated from terabytes of open and commercial data.
Bring your own 3D data
Integrate your source data with our content and host it all in your secure environment.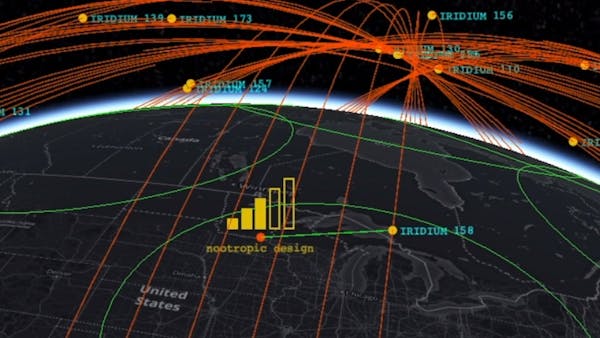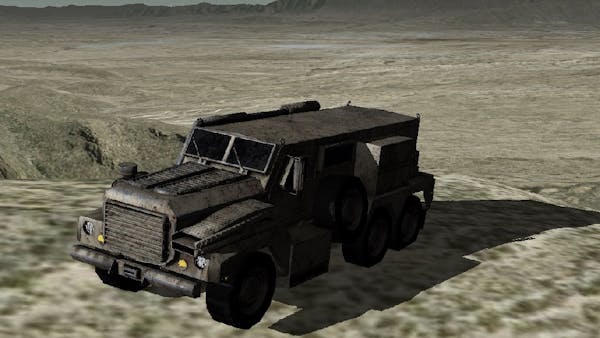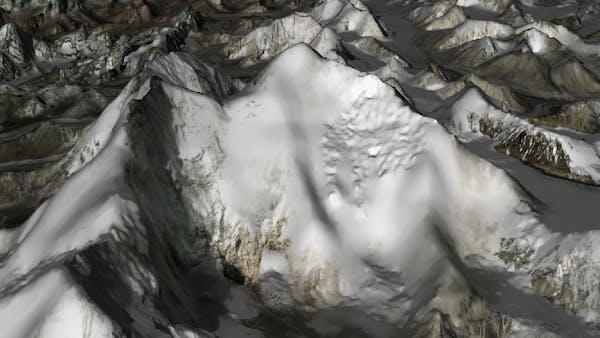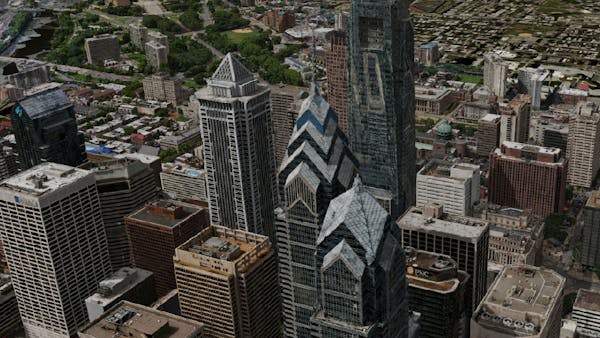 CesiumJS: open source web visualization
Create world-class 3D experiences with the best possible performance, precision, visual quality, and ease-of-use. Developers across industries, from aerospace to special forces, from space to underground, use CesiumJS to create interactive web apps that leverage dynamic geospatial data.
Performance, precision, and visual quality
Visualize and analyze on a high-precision WGS84 globe. Achieve performance at massive scale without compromising accuracy.
Open formats for interoperability
Stream in 3D Tiles and other standard formats.
Open source — over 1 million downloads
The CesiumJS Javascript library powers apps that reach millions of users.
The Cesium ion SDK extends the open source CesiumJS JavaScript visualization engine with additional tools, like sensor geometries and visibility analytics.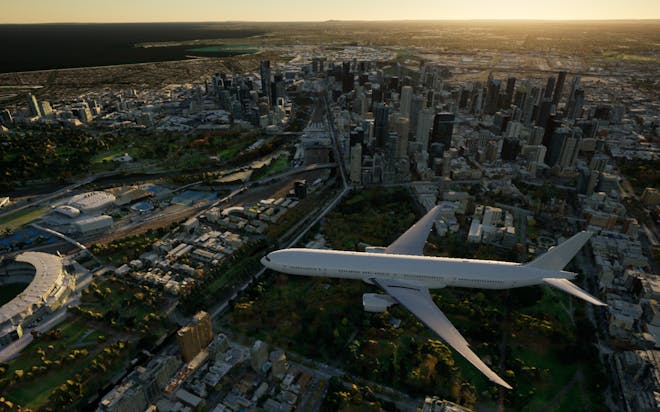 Cesium for Unreal
Open source and built on open standards and APIs, Cesium for Unreal combines the 3D geospatial capability of Cesium with the high-fidelity rendering power of Unreal Engine, unlocking the 3D geospatial ecosystem for game engines.
Bring the real world into modeling and simulation
Visualize massive high-resolution real-world photogrammetry and 3D content at runtime using 3D Tiles. With the Cesium ion integration, easily include real-world 3D data and Cesium curated global 3D content in your simulated world.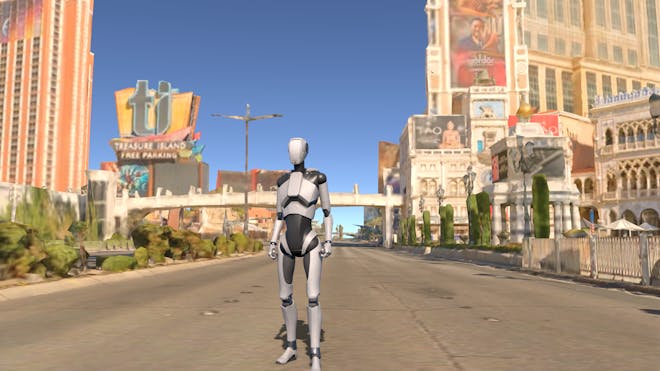 Cesium for Unity
Cesium for Unity enables a full-scale high-accuracy WGS84 globe for Unity. Visualize massive high-resolution real-world photogrammetry and 3D geospatial content at runtime using 3D Tiles. The free and open source visualization plugin is integrated with Unity's Game Objects, Components, Character Controllers, and more.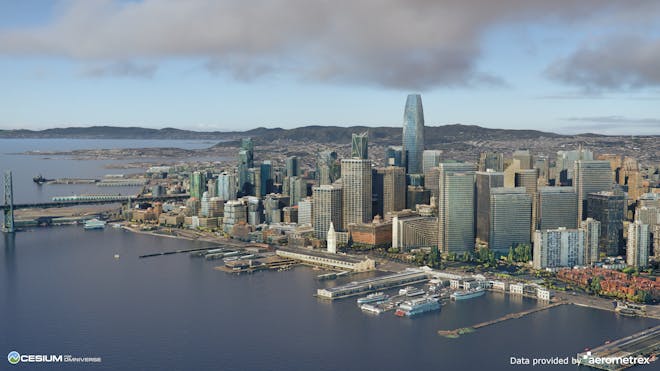 Cesium for Omniverse
An extension that enables 3D geospatial capability for NVIDIA Omniverse, a real-time 3D graphics collaboration development platform.

Combine the power of Cesium's 3D geospatial platform with NVIDIA Omniverse's real-time ray tracing for visualization and AI-powered analytics for 3D geospatial workflows.
Cesium ion compared to custom solutions
Even if you expect to tile on-premises, we recommend starting with Cesium ion to learn about the tilers.
| Using Cesium ion (SaaS) | Hosting and administering a custom solution |
| --- | --- |
| One monthly subscription includes tiling, hosting, and global 3D content | Separate annual subscriptions for tiling pipeline and global 3D content |
| Cesium ion hosts and serves your 3D data | You host and serve your data (choose your own server or use the one included with 3D Tiling Pipeline) |
| Cesium support team available to help with problems | Your team handles day-to-day troubleshooting |
| Friendly web UI for 3D data tiling and management | You use the tiling pipeline command line interface (CLI) or create a UI for the pipeline |
| Cesium ion integrations make it easy to configure end-to-end workflows | You integrate the pipeline into your environment |
| You control access to your tiled data with access tokens | Your tiled data stored in your data center and you implement access control |
| Cesium provides and manages the infrastructure | You acquire and manage the infrastructure |
| Cesium handles set up and upgrades | You manage installation and updates |
Whether you use Cesium ion or host your own solution, you can use your preferred visualization engine, including CesiumJS, Cesium ion SDK, and Cesium for Unreal.